Jordan Bohannon
Jordan Bohannon Sticks To His Plan While Striving for PGA Tour Status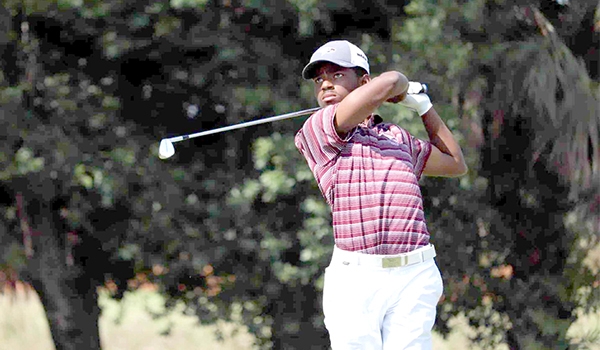 BY AFRICAN AMERICAN GOLFER'S DIGEST
22-year-old professional golfer Jordan Bohannon recently graduated from North Carolina Central University (NCCU) and has chosen to make a career in golf. Hailing from Southfield, Michigan, approximately 15 miles northwest of Detroit, he currently resides in Indio, California.  Jordan began playing golf with his father at the early age of six and grew to admire the game.  "I first picked up the game at the age of six, when I received a set of clubs for Christmas," he says.  As a junior golfer, he went on to excel in national competitions like The Drive, Chip & Putt National Finals and the Junior PGA Championship.
Jordan continued his passion for playing and graduated from high school as a Division 1 All-State member and came within a playoff of becoming the first African American Division 1 Medalist in high school history.   With a true sense of the sport, sixteen years from the time he first picked up a club, Jordan achieved his first professional victory at the 2018 Pheasant Run Open. The win came within months of him graduating Cum Laude from NCCU with a degree in Finance.  Since graduating Jordan's scoring average has dropped nearly three strokes from where it was.
He explains, "I love the fact that golf is an individual sport that requires strong physical and mental ability," comments the proud member of the Alpha Phi Alpha Fraternity, Inc. by way of the Gamma Beta Chapter seated at North Carolina Central University.
The 5′ 7″ pro has a +2 handicap and frequently plays at his home course Terra Lago Golf Club/Resort (Indio, California)/ Like many avid golfers, Jordan enjoys the sport and challenges himself to drive the distance and progress at the highest level of golf. He has recently begun his first full season as a pro golfer, turning pro in July 2018.
Competing in events on the Advocates Pro Golf Association Tour and in Qualifiers for PGA and Web.com Tour events Jordan is making strides towards his goal of becoming a top championship player. Unfortunately, during his last event at the De Anza Classic, as part of the Golden State Tour Season, he was cut after two days of playing under par and missing the cut by four strokes.
During his undergraduate studies at NCCU Jordan succeeded in breaking his alma mater's modern era career scoring record, with an average round of 75.74.  He played in 89 rounds in four seasons and earned himself 17 top-10 finishes three event victories, and currently holds at least a share of three school records.
Passionate. Precise. Persistent.
Jordan has a penchant for staying fit and works out four times a week.  He sticks to his planned routines in order to keep himself in shape, as he continues to compete at a professional level. "I believe in my ability and know that in my heart I have what it takes. I'm completely focused on my craft," says Jordan, who like so many other professional golfers needs financial support to help make his dreams come true.  He has established a GoFundMe page for much-needed donations.
"Golf is one of the most expensive sports you can play and there are countless expenses that come along with being a touring professional. These expenses include tournament entry fees, airfare, hotels, and rental car expenses. My family and friends have always been there to support me," says his GoFundMe page.
You can find Jordan Bohannon on his official website which host his recent tour, upcoming schedule, news, and a team list of committed individuals who have been instrumental in his development. In five years the professional golfer would like to see himself on the Web.com Tour with full status. When Jordan is not playing golf he likes to travel, work and draw during his leisure time. He currently receives product support from Titleist and FootJoy and aspires to one become PGA tour player.